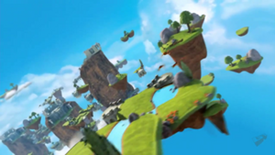 The
Skylands
are a magical world in another dimension that contains an endless expanse of clouds with large and small floating islands; each with its own world.
Skylanders: Spyro's Universe
Edit
In Skylanders: Spyro's Universe, you can customize your Skyland by buying object, such as Pine Trees, Cypress Trees, Sheep Statues, and more. You can also customize the theme of your lair by buying some, such as the Life Lair, or the Water Lair. Your Lair is also on your Skyland. It shows which Skylanders you own. You can also expand your Skyland, as long as you have enough Skylanders.
Skylanders: Spyro's Adventure
Edit
With no known beginning or end, Skylands is a wondrous world filled with magic and mystery, both light and dark. Magic flows through everything in Skylands, from every rock, tree, and beast. The Skylanders, including Spyro, serve as Skylands' greatest heroes as well as its protectors. They, along with the Portal Masters, protected Skylands and its magical Core of Light for generations, using their magical powers, physical abilities, and weaponry to keep peace and balance in their world so that all creatures can thrive.
Throughout the history of Skylands, brave explorers have piloted airships far and wide to see what lies beyond its cloud-filled skies. Some were lost in the Great Black Whirl Storm while others were shipwrecked on strange and dangerous islands. But one thing has always proven true: there is seemingly no boundary or end to the world of Skylands.